Excavations for pools & spas
Installing a new swimming pool in your own yard is such an exciting prospect! We're here to help you get things underway, by clearing, digging, trenching and preparing the ground to take in and hold your pool.
We start by assessing the lay of the land and the soil conditions, as well as available access, and the type of machinery appropriate to your job. Even tight, hard-to-reach spaces can be accessed with our specialised equipment. With attentive care and planning, we ensure structures, pipes, plumbing, phone cables, gas lines and etc., are avoided, and that requisite council permissions are in place.
Excavations Near Me prepares the soil and excavates the spaces for your pool, tiles, paving and/or landscaping to be created. We manage any necessary rock-breaking and the removal of dirt, soil and debris, as well as cleaning up and levelling the site, in readiness for a concrete or fibreglass pool, a spa, a lap pool, or even a pond. We can also dig the post holes for your pool's fencing or decking. Speak to us about your individual needs.
Often, Sydney's landscape architecture can present the challenge of tight working spaces, but thanks to our specialised machinery we are up to the task, and can work within most confined or tricky spaces. Learn more about our tight access excavation services here.
Our qualified and licenced operators are skilled in providing a quality job, every time. We have experience dealing with all sorts of soil types and conditions, and will work with your pool installer to ensure your pool has the perfect resting place.
Our rates are reasonable and affordable. If you'd like to know more, don't hesitate to get in touch with us.
Call 0413 699 962 or contact us below today to see how we can help.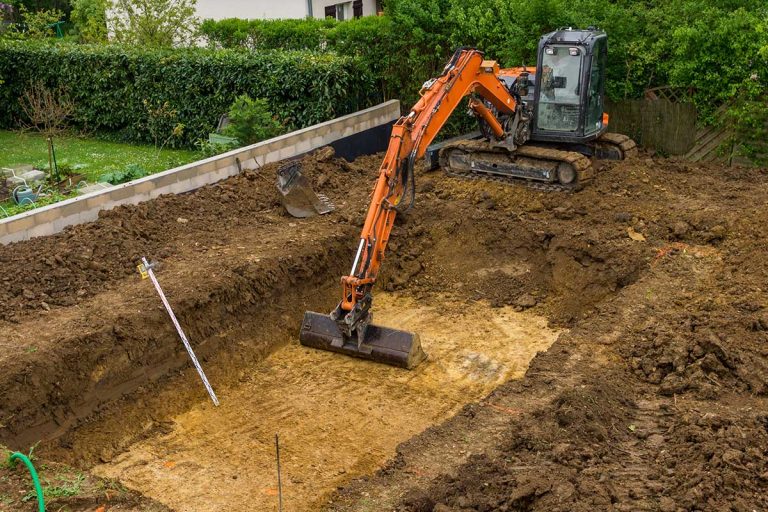 All pool earthworks and excavations: